I'm borrowing an idea from my best friend, Rachel in listing some of my favorites from other blogs, and from the world around me. I love to hear what inspires everyone else, so I thought I'd put a little bit of that back out there today since I have felt so inspired lately.
* These Crochet Earrings posted about over at
All Buttoned Up
are one of my new favorite things. I am thinking about making some to add to my jewelry collection, and to make some matching necklaces and bracelets as well. I am in love with their delicacy!
*
Homemade Serenity
has some AMAZING crafts and activities for families this holiday. They aren't "cheesy" throw away things like most crafts you see themed around a holiday. These are really beautiful, store-quality items I would love to have displayed throughout my home. Go check it out if you get a chance!
* This incredible home-made Gift List over at
Angry Chicken
is inspiring me big time. I think I'm going to have to make up something like this to record what the girls received this year. I also truly truly love the "Mildly Interesting Secrets" books. I know a certain someone who would really appreciate this I think! I am absolutely in love with herAmy's unique style.
* This pom pom garland from
Artsy-Crafty Babe
is really bringing so much of the child in me out to come play this Christmas. I have no idea how many hundreds of pom poms it would take to make a garland but it looks SO fun, and absolutely worth it.
*
The Artwork over at Artsyville
. I can't pick just one piece to showcase, because it is all INCREDIBLE and so freeing and inspiring. It reminds me a lot of SARK's work, and for those of you who know how much I love SARK, you then know how much I love these pieces as well. Browse around the blog, and see if you can tear your eyes away from the left sidebar long enough to find other treasures. Definitely worth a look-see.
* This idea from
Daily Danny
of using old book pages to wrap things in, is really inspiring to me, in a decorating sense. I would of course say try to use a book that is already of no use (missing pages or partly damaged for example), but truly... isn't this beautiful? Though this example uses soap bars, I am hoping to make some hand-salve, and am thinking this would be a nice way to wrap it for the men in my life.
*
This beeswax candle tutorial
is wonderfully done. I think I will try to make some this year, using some of the soy wax I have on hand in some old jelly jars we have saved throughout the year. :)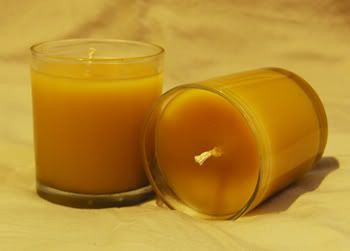 * Getting away from the crafty side of things for a moment, I am really inspired by this picture from
La Belle Avenue
of cooking over a fire. One of my goals is to someday have a wood stove that I can actually cook with. I just love this photo.
* I have been really inspired by silhouettes lately too, so these
ultra-creative silhouettes from Notes from a Cottage Industry
really spoke to me. I am going to be scouring our flea market and thrift stores for interesting frames and see what I can do to create some fun scenes to hang on the walls.
* Finding myself inspired to be more creative in my journaling with this image from
WeHeartIt
. Very SARK like, I think. Of course, that means that a new journal, and a fresh set of Sharpie Pens are on my Christmas list this year!
* Color continues to inspire me, as seen in these
stripey wrist-warmers by Posy Gets Cozy
.
*
This "Postcard" image
from Soule Mama just makes my heart swoon. Anna loves to look at and talk to the moon. She always has. All of her postcard-type-images are just blowing me away. Do go check them out. Amazing.
* This natural pine-bough wreath and old floursack stocking from
The Cottage Gals
have me really inspired as well this Holiday season. We are trying to incorporate more nature into our celebrations this year. Soon we will go on a nature walk to find pretty items to include in our decor.
What is inspiring you these days?